This system will find those live longshots ready to spring the upset.
It can be used to find those darkhorse teams like it did in Euro 2004 when it put us on to Greece at 50-1 odds who went on to win or for straight up games like the example below.
Example:
Celtic vs AC Milan
Using our stats select the teams and compare them with one another, pay attention to each team's ranking, add up all the rankings from each category and bet on the team with the lower number if they are a longshot.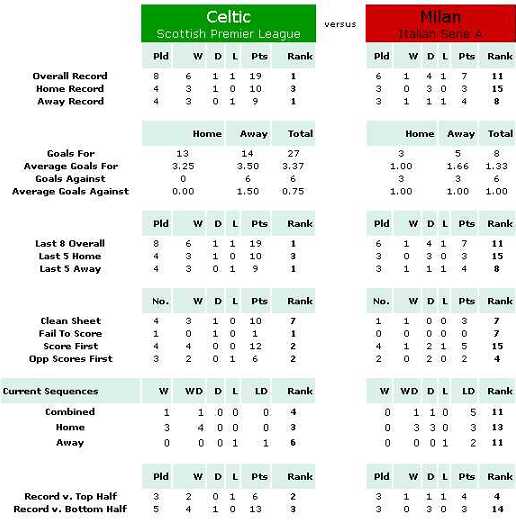 Looking at those numbers you can see that Celtic looks like the better in form team and they won this game vs AC Milan at home at odds of nearly 4-1.
For tournament play you can compare each team individually and make note of each team's individual number after adding up their ranking in each category, excluding the goals for and goals against categories.
When we used this system prior to Euro 2004 we noticed that Greece stood out as the number 3 ranked team in the tournament, outranking teams like Italy, which was surprising considering their history in the competition and their odds of 50-1.